Lucifer Season 5: Music Supervisor Justin Kamps' Favorite Music Moments
Lucifer has been a force for music discovery. A perennial resident on Tunefind's annual list of most popular TV show soundtracks, Lucifans are always as excited by the new songs they'll hear as they are about Lucifer's latest antics. It's no surprise that the latest season staged a complete takeover of Tunefind's most popular TV music chart.
"I am beyond overwhelmed with all of the support I've seen from Lucifans for the first half of Season 5," said, Lucifer Music Supervisor Justin Kamps of Monster Sector Music Supervision. "It has been absolutely wonderful seeing the community discover these songs here on Tunefind and elsewhere."
Just a few weeks following release, the current season of Lucifer has already seen back-to-back top TV songs on Tunefind. A cover version of 'Happy Together' by King Princess and Mark Ronson took the top spot early on. The following two weeks 'This Year's Love' by Jasmine Thompson, another cover, took over the top spot.
Kamps has already shared a bit more about soundtracking those two scenes above, but with almost 50 songs featured so far this season, that's just the tip of the iceberg. We asked him to walk through a few of his favorite songs from Lucifer season 5 below.
This season features a variety of music genres from Alternative/Indie to Dance/Electronic, and even a film noir inspired vibe for one episode. You'll also hear some cast performances, reimagined cover songs, and a few unreleased tracks that are in high demand, including 'Resonance' by Modulation featured in episode 6 and 'Power' by Sons of Legion from episode 7. (Don't worry, if these tracks get released we'll update the links on Tunefind.)
Speaking cast performances, fans have been asking for full song versions of many Lucifer cast performances all the way back since Lucifer (Tom Ellis) first sat down in front of a piano in season 1. Along with the new episodes, Lucifans also got a special present: a soundtrack album featuring cast performances from all five seasons. The album includes Ellis' sought-after cover versions of 'Sinnerman,' 'Creep,' and 'All Along the Watchtower,' along with Lesley-Ann Brandt (Maze) singing 'Wonderwall.'
We're sure Lucifans will also be thrilled to hear more about how some of those big music moments of season 5 came together. Kamps took a few minutes to walk us through some of his favorite music moments from this first half of Lucifer season 5, including some new acoustic versions released by the artists. In no particular order…
Justin Kamps: This scene!! Oh man, what a HUGE moment for the show and such an exciting scene to pitch for. The show has been building to this for awhile, and so the scene demanded an amazing song to match Lauren and Tom's smoldering passion on screen. 
JK: 'Tether Me' by Galleaux was the first song to land in that scene, and in the end nothing else could beat it. The song is sexy as hell, and just has an amazing build to the chorus that hits at the perfect moment. There has been a huge fan response to this song and Galleaux even put out a new acoustic version of the track just last week. Check it out…if you can handle the feels!
---
JK: I have to say that Maze's storyline this season may be my favorite. I have had such a great time watching Lesley-Ann Brandt act the hell out of every scene she's in. That's why it was such a treat to try and find the right song for this emotional moment in Maze's life. 'Paradise' by Anderson Rocio really encapsulates this bittersweet moment. 
JK: Sometimes it almost feels like Anderson's lyrics are speaking right to Maze as her anger and regret boil over in her mother's apartment. This is another track that Lucifans have totally blown up. If you're looking for another 'Paradise' fix, Anderson recently released a live acoustic performance of the song on YouTube!
---
JK: I was absolutely obsessed with this song as soon as I heard it.  The intro is just, the best. I can't get enough of this ominous, haunting track. That sound fit well for the ending of 507, where we see Dan in a very dark place do something shocking. (No spoilers in case you haven't gotten there yet, but also, hurry up and finish the episodes what are you doing?!!?). 
JK: I was also excited to see this song get an amazing use in Dark Season 3, one of my favorite shows I've watched during quarantine!
---
JK: Lucifer is full of hilarious moments throughout the season, but this was probably the part that made me laugh the most. The entire Detective Amenadiel is brilliant, but this scene was just so, so funny. Amenadiel and Chloe trying to seriously interrogate some nuns who just can't help but find themselves attracted to Amenadiel for…some reason. To top it all off, we found the song 'Glorious' by Louis II which could not have been a better fit if we had written something ourselves. 
JK: Upbeat, high-energy, fun and…GLORIOUS!! This one always brings a smile to my face.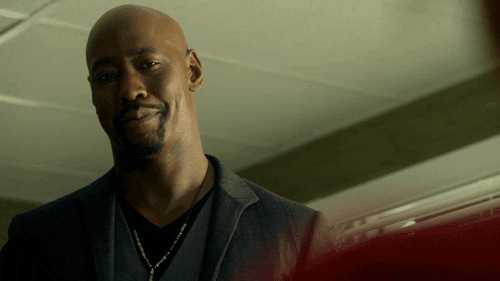 ---
JK: This was a tricky scene to work on. It's a fairly extended music moment, and there's a lot to go through! An astronaut in space…a murder…oh wait it's not space!?! and we're heading into the precinct. A lot of ground to cover! I'm a big fan of Temples and their song 'Atomise' ended up completely fitting the bill. 
JK: The trippy, floating, psychedelic intro that then kicks into gear as we head to Chloe at the precinct sealed the deal.  Temples just dropped a new single last week called 'Paraphernalia' and it is the roller rink disco jam you didn't know you needed right now.
---
Top 10 Fan Favorite Songs from Lucifer, part 1 of season 5
"It is a blast to be able to work on this show and all I can say is, just you wait for the 2nd half!! AHHH!!!," said Kamps.
We're expecting Lucifans to bring Lucifer to the top again once the second half of season 5 is released – complete with a musical episode. The show is scheduled to resume production toward the end of September, so hopefully those new episodes will arrive sometime in the first half of 2021.
As always, Tunefind continues to track all the songs featured in the Lucifer soundtrack and will be back with more favorites when the second half of season 5 is released.
More
〉Full list of songs in the Lucifer soundtrack